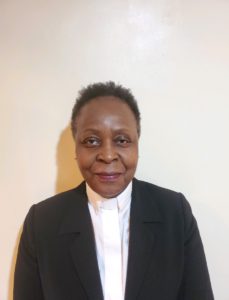 "Bless the Lord, O my Soul, and all that is within me, bless His holy name."
Anna Bailey-Scribner was ordained as an Associate Minister in 2004 under the leadership of Rev. Dr. Samuel Ray, Pastor of Morning Star Baptist Church of Christ. Reverend Scribner believes that God has given each of us talents to be used for the up-building of His kingdom. Therefore, she gladly renders her services as the Church School Director, a member of the Board of Christian Education, and the Outreach Ministry. She serves as the spiritual advisor to the Women's Ministry and the Youth Ministry.
Reverend Scribner had a long-distinguished career as an educator in the Baltimore City School system. She retired in 2009 after 36 years of service. Her passion for educating children has been a major motivation in her life and tenure as principal and assistant to the Chief Academic Officer. Rev. Scribner earned a BA degree from Coppin State University, a Master's degree and an Advance Certificate from the Johns Hopkins University. She worked on a Doctoral of Theology at the United Baptist College and Seminary. In 2018 she received a Masters of Arts degree in Theological Studies, Theology from the Liberty University Rawlings School of Divinity.
ll Timothy 2:15 NASB "Be diligent to present yourself approved to God as a worker who does not need to be ashamed, accurately handling the word of truth."
The more she learns, the more she realizes that she is only touching the surface of what God has for her. Learning is infinite.
"I once was lost but now I am found, was blind but now I see. When I think of the goodness of Jesus and all He has done for me my soul cries out hallelujah. I thank God for saving me." Rev. Scribner lives her belief…..If she can help somebody then her living is not in vain.