Evangelist Finch Spiritual Background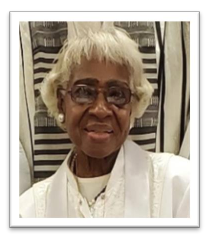 Evangelist Lois Finch was born, raised and educated in Baltimore, Maryland. She is a long time member of Morning Star Baptist Church of Christ. She attended and graduated from the Baltimore School of the Bible in 1986. She remembers Pastors' Wicks, Garnett, Ray and now current pastor Rev. Clarence E. Fowler. She is thankful for the training and teaching she has received under these great men of God. Evangelist Finch was called to to evangelize in Baltimore witnessing door-to-door, walking the streets and leading souls to Christ.
She moved to Kents Store, Virginia where her outreach ministry continued. She attended School of Evangelism in New York City called RUN. She also attended Rev. Dr. Billy Graham School of Evangelism in North Carolina and Child Evangelism classes in Norfolk, Virginia. Evangelist Fiinch was ordained in 1998 at County Line Baptist Church in Virginia. She lived in Virginia for 23 years. In 2013, she returned to Baltimore and Morning Star Baptist Church of Christ. She was welcomed by the late Pastor Rev. Dr. Samuel Ray and the congregation. She continued her evangelism ministry in the streets, at City Jail and wherever the spirit led her. The Lord blessed her to join the ministerial staff, preach sermons and perform other ministerial duties in the church.
One of her favorite scriptures is Galatians 2:20 NKJV "I have been crucified with Christ, it is no longer I who live, but Christ lives in me; and the life which I now live in the flesh I live by faith in the Son of God, who loved me and gave Himself for me."
Evangelist Finch is married to Deacon Elmer Finch and together they continue their ministires at Morning Star. She is thankful to God for his mercy, his grace, his faithfulness, his abundant goodness and his overflowing love which he bestows daily. Her heart's desire is to please the Lord and win precious souls to Christ. Soul winning is her greatest joy!